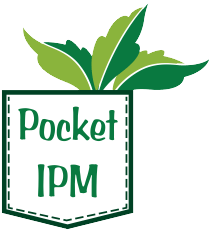 Who are we?
The idea for Greenhouse Scout came from the work of Elizabeth Lamb and Brian Eshenaur, senior extension specialists at Cornell Cooperative Extension, and part of the New York State Integrated Pest Management Program staff.
Located at the NYS Agricultural Experiment Station in Geneva NY, we work with closely with Cornell University faculty and other agricultural professionals, and support greenhouse growers around the world.
What is IPM?
Integrated Pest Management (IPM) is a method of disease, insect, weed and animal management that considers the available cultural, mechanical, biological, and chemical methods of control. The goal is to create an integrated system that is effective, economical and environmentally sound. The basic features of an IPM system are pest identification, planning, monitoring, application, and evaluation.
What is Greenhouse Scout?
The Greenhouse Scout™ mobile application has been designed to provide an easily accessible summary of information on biocontrol of common greenhouse insect pests and an interactive interface for collecting, organizing, and presentation of scouting data, and product application for insect management.
Information for this app has been collected from a variety of sources including John Sanderson, Department of Entomology, Cornell University.
This publication is supported, in part, with funding from the U.S. Department of Agriculture, National Institute of Food and Agriculture.
Every effort has been made to provide correct, complete and up-to-date biocontrol information. This app reflects our best effort to interpret a complex body of information into practical management procedures. Following this information does not ensure a specific level of pest management or production.
Pesticide trade names are used for convenience only. No endorsement of products in intended, nor is criticism of unnamed products implied.
©2023 Cornell University. Cornell Cooperative Extension provides equal program and employment opportunity